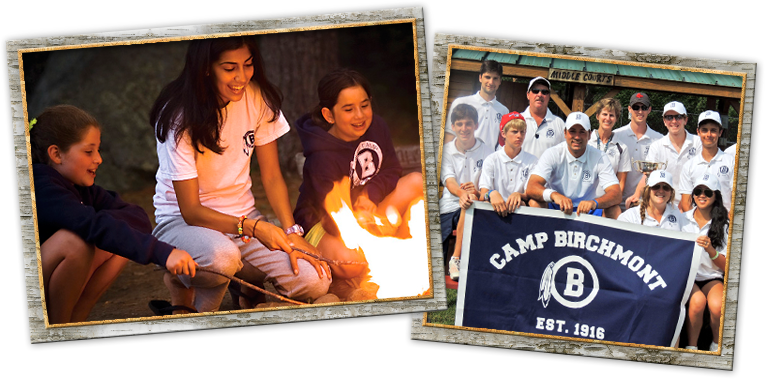 Dates & FAQs

2024 Staff Dates
Please note: your exact dates can be discussed and agreed as part of your contract
| | |
| --- | --- |
| Pre Camp Crew Arrival (by previous arrangement only): | Tuesday, May 28 |
| Early Support Staff Arrival: | Saturday, June 15 |
| All Staff Arrival: | Thursday, June 20 |
| End of Orientation: | Saturday, June 29 |
| Parents Visiting Day: | Saturday, July 27 |
| Regular Staff Departure: | Saturday, August 17 |
| Late Support Staff Departure: | Thursday, August 22 |
| Last Support Staff Departure: | Thursday, August 29 |

Staff FAQs
Where is Birchmont?

Birchmont is in the state of New Hampshire in the north-east of the United States, about 90 minutes drive north from Boston. We're on the shores of Lake Wentworth, and close to the vacation resort town of Wolfeboro.

---

Where do most staff come from?

Our staff come from all over the United States, and around the world – with staff from over a dozen states and from 6 continents! Many of our counselors are college students, with our senior staff made up of educators, coaches and full-time camp professionals.

---

Where will I live during the summer?

Our counselors (Group Leaders, Head Counselors and Specialists) live in shared cabins with our campers and other staff. Typically 10-12 campers will be in the main room, with 3-4 staff sharing a separate counselor room. All of our cabins have full bathrooms and electricity – so it's pretty nice! Senior adult staff live in separate staff accommodation, but we'll discuss all this with you at interview!

---

Do I have to work the full summer?

All of our counselors are asked to be available for the full duration of camp, including our orientation periods. This is to ensure you're properly trained, and so that the campers can have the best experience all the way through to the end of camp. Some of our roles – such as camp nurses and drivers – have more flexible schedules, as they don't need to live in camper cabins.

---

How do I apply?

If you're from the US and have the right to work, you can just hit the 'Apply Now' link on the side of the page! If you're from outside the US, you are welcome to apply directly through the website, but you will also need to come through a hiring agency for visa sponsorship reasons. We work with a number of agencies, and can point you in the right direction if you need help!

---

How much will I be paid?

Your pay will vary depending on the role you're given and the level of responsibility you will have at camp – but we pay salaries that are competitive in the camp industry. We also provide you with full room and board, laundry, staff t-shirts, transportation on your days and nights off, and staff appreciation dinners and events.

---

How much time off will I get?

Working at summer camp is not a typical job! If you're living in a camper cabin, you're 'on' pretty much all day – but it's an experience like no other. You will officially have two nights, two "rest hours" and one full day off a week. On those days and nights, we provide transport to local towns and cities (Wolfeboro, Portsmouth, Portland, Boston) so you can have some time off-grounds and get to experience the sights and sounds of New England!