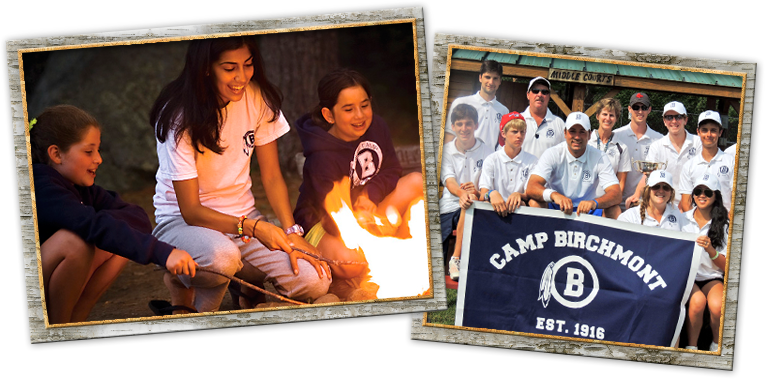 Dates & FAQs

2022 Staff Dates
Please note: any deviation from these dates must be cleared in advance with the camp director.
| | |
| --- | --- |
| Pre Camp Crew (by previous arrangement only): | Sunday, May 29 |
| Early Support Staff Arrival: | Sunday, June 12 |
| All Other Staff and Late Support Staff Arrival: | Thursday, June 16 |
| End of Orientation / Camper Arrival: | Sunday, June 26 |
| Parents Visiting Day: | Saturday, July 23 |
| End of Summer / Regular Staff Departure: | Saturday, August 13 |
| Late Support Staff Departure (based on contracted dates): | Wednesday, August 24 |
| Last Support Staff Departure (by previous arrangement only): | Wednesday, August 31 |

Staff FAQs
How do I access the requisite forms and information for camp employment?
Once contracted you'll be given directions on how to create your own online Birchmont CampInTouch account. You will be able to access any and all forms that are required by us at camp through this web hosted environment. Additionally, there will be a Staff Information section that will give you all of the information such as clothing list, dates, transportation information, staff handbook, etc., which you will need prior to arriving at camp for orientation.
How do I get to camp?
Getting to camp is a very varied answer. If you plan on driving, you'll find directions on our website under the "Come Visit Us" section. We provide centrally located parking for our staff on camp grounds. Additionally, we provide bus transportation form Long Island, New York with stops along the way in Connecticut and New Hampshire as well as detailed information regarding air travel and public buses. Rest assured once you've been hired, we provide an entire online section of information which will aide you in making the right decision.
Is there internet access at Camp?
Yes. We have wireless internet access in our staff lounge. This is made available to staff during their time off throughout the summer.
What do I do with my valuables while at camp?
Everyone is encouraged to keep valuables (passports, money, wallets etc.) in the office safe during the summer. Access to the safe is available at specified times during the day. These times are posted at the main office.
Do I need to bring blankets and sheets?
Staff coming from the U.S and Canada need to bring their own sheets and blankets. Overseas staff will be provided with sheets, towels and blankets.