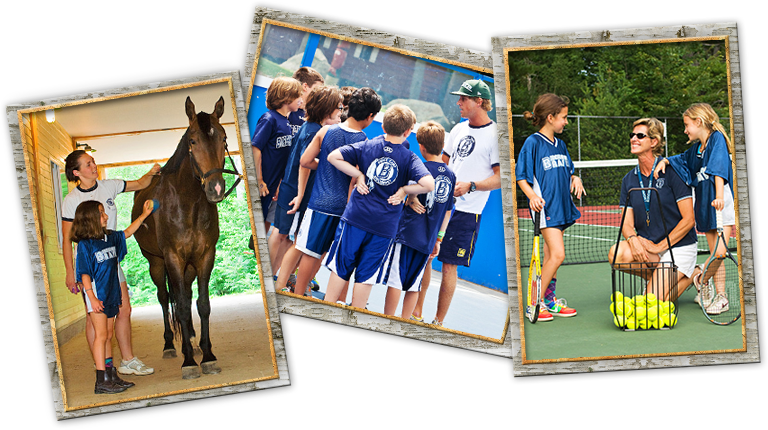 Staff Positions
At Birchmont, it takes a true team effort to make an amazing summer. Below is a brief description of some of the roles that you could play at camp.
Group Leader
Our Group Leaders ("GLs") have the chance to make the biggest impact on a child's summer. The GL will be in charge of a group of 15-35 campers in a particular age group, as well as a team of 6-9 staff. Lots of our GLs are returning staff members, but we welcome applications from strong candidates with a background in education or leadership positions.
Head Counselor
Our Head Counselors ("HCs") are the GLs right-hand – helping to run all aspects of a group's day; joining in with activities, interacting with the campers, participating in activities, and accompanying the group on off-ground trips. This role is suited to staff who are going to bring lots of energy, enthusiasm and positivity, and who aspire to taking a leading role when called upon during the summer.
Activity Specialists
Our extensive activity program at Birchmont is run by an incredible team of coaches, athletes and artists. Depending on the area, our specialists will either run a program on their own or as part of a team of instructors – helping the campers to learn new skills, have fun and develop their confidence and ability in particular areas. Our specialists also play an important role with their assigned group, assisting as general counselors when not running their own activity area. This role is suited to someone with expertise or experience in a particular activity – be it one of our sports, arts disciplines, or at the waterfront.
Photographers
Our small team of photographers work hard to capture all the magical moments that happen during the summer – attending all our special events, visiting our activity areas and interacting with every camper and staff member through the course of their day. They also have the chance to be a general counselor with their assigned group – so they can get the full camp experience on both sides of the camera! This role is suited to experienced and aspiring photographers and videographers with a passion for capturing and creating spontaneous, dynamic content.
Support Staff
Our large team of support staff keep everything running smoothly over the summer – across our kitchen, laundry, maintenance and office teams. While not directly responsible for or living in a bunk with the campers, they play a vital role in everyone's happiness at camp – and enjoy a great team spirit throughout the summer.
Drivers
Our campers' summers include a huge range of trips off-grounds, inter-camp competitions and outings. Our team of drivers facilitate this with our famous fleet of Pierce Coach Line school buses (CDL required), as well as our daily swim runs to and from the beach, and our staff outings for days and nights off. This role is suited to experienced bus drivers who live locally or within commutable distance.