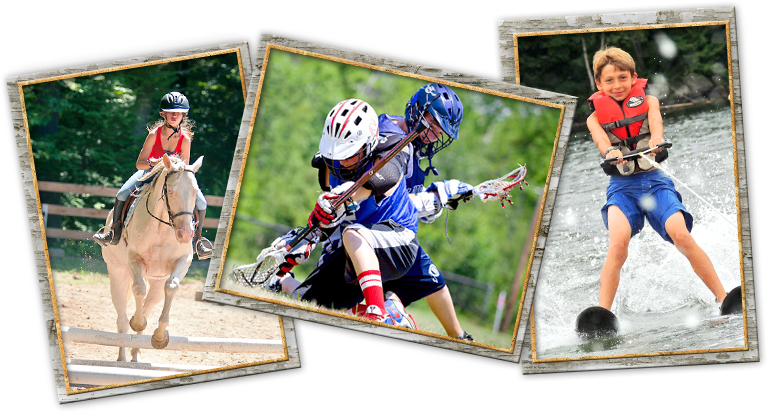 Activities
Waterfront
Red Cross Swimming and Lifesaving Skills
We emphasize our waterfront program where campers learn to swim and have a lot of fun in the process. Good skills, strokes and confidence in the water are the basic aims of our program. Our instruction swim covers the entire range of the Red Cross Program through Lifeguard Training.
Sailing
A fleet of sailboats enables our campers to learn the fundamentals of sailing, while enjoying the expanse of beautiful Lake Wentworth.
Waterskiing
We have 4 specially designed ski boats, including two world class competition boats. In addition, we have ski bobbing, torpedoes, wake boarding and skurfers!
Canoeing
Different levels from beginner to advanced offer instruction in the all of the common strokes.  Learn to paddle a canoe and enjoy the beauty of Lake Wentworth as you silently glide across the crystal clear water.
Paddle Boarding
The newest west coast phenomenon to hit the east coast.  Have fun and improve your balance while getting a great core workout!
Kayaking
Paddle for fun or learn to Eskimo roll . . . It's up to you.
Water Trampoline
Our 20 foot circular floating trampoline adds fun and "bounce" to afternoon "free swim."
"Rock 'N Slide"
inflatable climbing wall and slide—a great combo for fun in the lake!
Rope Swing
It's a twist on the good old rope swing of yesteryear, imagine instead of starting from the shore over shallow water, your swing is already floating in deepwater!  No risk of landing in the wrong spot, just clear blue water!
Tennis
Our 12 courts, 8 of which are lit for night time play, serve as the site for expert U.S.P.T.A. instruction. Campers come to Birchmont at all different playing levels and each one is encouraged to seek his/her personal best. Birchmont's tennis program is one of which we are particularly proud. Much spirit and support is given by the staff, many of whom are on tennis scholarships at their universities. Our camper to staff ratio is 2:1 or better on the courts!
Club Program
We offer many additional popular activities offering our campers more freedom and choices 2 nights per week. New clubs are added each year based on camper interests.  Some of our most popular CLUBS are: Fishing, Gardening (plus seasonal berry picking), Birch Peelings (camp newspaper), Flag Football, Ultimate Frisbee, Native American Village (A totem pole is created and put up at camp every August), Dodge Ball, Cricket, Music/Drama, Waterskiing & Wakeboarding, Kayaking, Rocketry and more . . .
Court Sports
Basketball
Fundamentals in dribbling, shooting, passing, defense, and rebounding are stressed. Individual skill building is taught and team play is encouraged. Our two regulation high school courts are also lit for night time play.
Volleyball/Beach Volleyball
Older campers learn the finer points of competitive volleyball in game situations, while younger campers participate in "lead up" games using modified equipment to insure success. There are four regulation courts in all, 2 grass and 2 sand.
Street Hockey
Our outdoor hockey rink is also lit for night play. Helmets and sticks are provided.
Field Sports
Baseball/Softball
Our three fields are ideal for skill development. All campers participate in our "Watermelon Leagues" where teams are established for intra-camp play. Inter-camp competitions are available (vs. other camps) for those who choose.
Soccer
Instructors from the U.S.A. and the U.K. offer expert youth coaching on our two soccer fields. Both "7 on 7" and "11 on 11" formats are used for intra-camp games. Our emphasis is on fun, skill development and sportsmanship.
Lacrosse
Modified Men's Lacrosse and full Women's Lacrosse are new additions to the activity program at Birchmont. Back by popular demand, the program can meet the needs of participants from beginners through experts!
Flag Football
"7 on 7" Flag Football tournaments and games are held on our football field.
Games
Fun, low organization and popular field games are offered, including favorites "capture the flag" and European Team Handball.
Hilltop
Yoga/Pilates/Dance
Our Dance Studio is fully equipped with mirrored walls, personal exercise mats, stereo sound and flat screen TV providing the perfect setting for a high energy workout. Modern movement, jazzercise, choreography, yoga, Pilates, and dance recitals are all part of the camp program.
Fitness Center
Campers may choose to work out in our Fitness Center which is equipped with Cybex treadmills, stationary bikes, elliptical machines, universal weights, and a host of core exercises.
Gaga
Back by popular demand! This fast paced form of dodgeball focuses on the skills of dodging, striking, running and jumping by trying to hit opponents below the knees with the foam Gaga ball.
Mountain Biking
Enjoy some of our 30+ bikes! Ride the miles of trails around our own campus with your friends.
Running
You asked for it . . . Now you can opt to run distance or sprints and work on your cardio for sports, your health or just fun!
Horseback Riding
Our optional equestrian program is English style and offered at all levels from lead line to advanced jumping classes. We are also happy to offer Western Trail and Pony Rides. Our state of the art stables are right on our premises, housing 6 horses. Many campers have begun riding in Birchmont's ring, and developed a lifelong love for riding and showing horses. Trail riding and breakfast rides are a beautiful and special bonus for the intermediate and advanced riders.
Notches
Arts and Crafts
Our versatile program includes tile work, leatherwork, painting, sketching, sewing, watercolors, and T-shirt screening.
Nature
Our own forests, streams, lakes, mountains, frog pond, and even a quail hatchery are used for exploration. "Stargazing," "Wildflowers," and "Rocks & Robins" (Geology and Ornithology) are some of the areas of study. Nature also houses indigenous animals for staff handling and camper education.
Pottery and Beading
This program is focused on developing skills in pottery, enameling, and beading. A computerized kiln is part of the program.
Woodworking
Woodcraft at its best! Our campers build a variety of personal and unique objects, from rough lumber to finished pieces. Campers make their own mirrors, catapults, bird feeders, baskets, dog bowl holders, ping pong paddles and more.
Performing Arts
Drama
Campers can elect to participate in camp variety shows and plays, which are presented during the season with sets, professional lighting and musical accompaniment.
Music
Songs, piano and guitar!  What makes music? Enthusiastic campers and staff.
The Lodge at Birchmont
The Lodge is a 3,400 square foot country theater, the perfect space to enjoy the Performing Arts Program at Birchmont. Our magnificently appointed pine paneled theater is equipped with stage video projection, professional lighting and sound, stage curtain, bathrooms and sofas. In addition campers can play ping-pong or foosball – truly a great home for camp wide talent shows, plays, dances and gatherings.
R.A.G.
Riflery
Through the National Rifle Association, certified instructors teach handling of the 22 rifle, range safety, and marksmanship.
Archery
Campers of all ages may participate to earn awards through the American Bowman's Association program, shooting at targets from 15-20 yards.
Golf
Driving and Chipping Range
Campers will have the opportunity to drive and chip on our own Driving Range. More the than 200 yards in length, it is equipped with distance markers and targets to give our campers the opportunity to see the outcome of each stroke, ball after ball. Campers will also be able to chip into baskets and out of our sand trap for accuracy and challenge.
Putting
You drive for show, but putt for dough . . . Birchmont's 2,000 square foot Tour Putt Synthetic Turf® putting surface is the perfect place for campers to learn the nuances of putting. Our green has a stimp meter of 9.5 and all the contours of a real green.
Golf Trips
In addition to our "on grounds" instruction, we select capable golfers to go off grounds to play on one of 3 local courses.
Ropes
Low Elements
Learn to work as a team and master our low ropes course which includes a spider web, Jacob's ladder, tire swing course and more!
High Elements
Brave the zip-line, conquer the rock wall, or go for it on the jungle swing…all under the supervision of our certified ropes instructors of course!