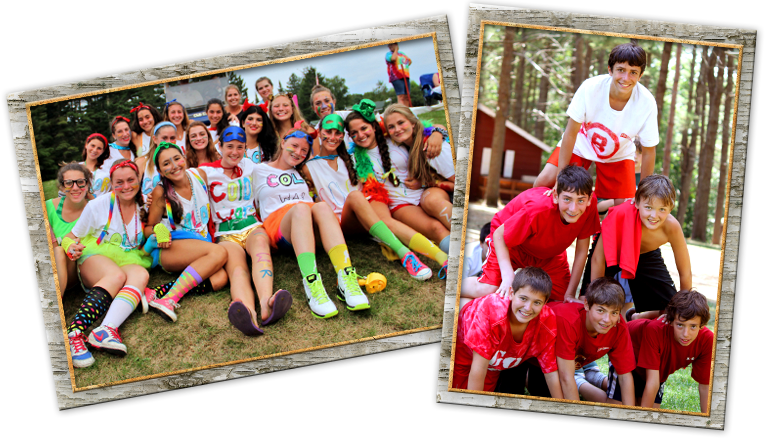 Dates, Fees, and FAQs
At Birchmont, we have an all-inclusive tuition. Our tuition price includes a few things most camps charge for additionally:
All group day trips out of camp to area attractions such as hikes, water parks, etc.
Transportation from NY metropolitan area, NYC, Roslyn, CT, and Boston's Logan Airport.
Camp wide special events and entertainment.
Laundry which is done on grounds and twice weekly.
We also offer a few programs at an additional cost. These programs are Optional Horseback Riding and Optional High Performance Tennis Instruction ("Senior" campers only). Our Multi-Day Trips are designed for "Senior" campers only to keep our older campers challenged and engaged.
There will be a 5% discount on the second camper for two campers from one family. There will be a 10% discount on the third camper for three or more campers from one family.
2024 Dates & Rates
FULL SESSION
Tuition $15,500
Opening Day, Sun., June 30
Visiting Day, Sat., July 27 Closing Day, Sat., Aug. 17
FIRST SESSION
Tuition, $9,900
Opening Day, Sun., June 30
Closing Day, Fri., July 26
Visiting Day Optional, Sat., July 27

SECOND SESSION
Tuition $8,300
Opening Day, Sun., July 28
No Visiting Day
Closing Day, Sat., Aug. 17
ROOKIE CAMP
(1st time campers only)
Limited Positions Available;
please call to inquire!
Tuition $6,300
Opens Sun., July 28
No Visiting Day
Ends Sat., Aug. 10 No transportation
---
FAQs
How co-ed is Birchmont?
Almost all daily activities are NOT CO-ED – as we believe that girls and boys should participate in athletic and other activities among their own age and gender. Our girls and boys DO get the same opportunities and activity offerings. We also host a full range of weekly special events, camp wide activities, and trips that are co-ed throughout the summer. Our boys and girls cabin areas are distinctly different and apart, creating privacy for living and relaxing, with separate supervision for each area. As a co-ed campus there are ample opportunities for siblings or friends to socialize while at camp. We seek to create an environment more representative of the "real world" as campers interact with the opposite gender in a comfortable and supervised setting of social ease.
Where do the Birchmont campers come from?
In camp terminology, Birchmont has an extremely good "mix" of kids. Of course we draw many campers from the New York tristate area, but we're also home to children from over 20 states! Campers come from as far west as California and Washington, as far south as Florida and Texas, as far North as Maine, New Hampshire and neighboring Canada. We are a non-denominational camp and like today's global community Birchmont hosts several international families and campers. In fact, just under 10% of Birchmont's community hails from Europe & Asia! These children travel great distances to join us in pristine New Hampshire each summer, known world-wide for superior weather, lakes and a COOL, DRY climate! For more detailed information about your campers' specific group, please contact us.
How many campers are in each cabin and what is your camper to counselor ratio?
Our cabins for the younger campers will house 8 to 12 campers and 4 staff members. Many of these refurbished original cabins have stone fireplaces which add tremendously to story time and a real feeling of camp life. Our older campers live in spacious cabins that house 12 to 16 campers and 3 staff. Camp wide we have over 150 staff, and 300 campers. We have at least one counselor on duty in every cabin, every night! Of course, all cabins have hardwood floors and paneling and are fully equipped with toilets, showers, sinks, electricity, fire extinguishers, smoke alarms, screened windows and doors.
What is your program emphasis?
At Birchmont we teach success! We take great pride in our senior staff comprised of teachers, parents and coaches. Our program meets each camper at their individual level, starting with skills that they already possess and build from there. Our goal is to build self-esteem in a supportive and fun environment. Each success leads to increased confidence, which creates a "can do" attitude. From there the learning curve accelerates dramatically.
How competitive is Birchmont's sports program?
We strive to promote only the POSITIVE aspects of youth competition. We work hard to teach and emphasize the lifelong virtues of teamwork and good sportsmanship. We support and encourage each other every step of the way in spirited play. We have inter-camp competitions and tournaments in all field and court sports and participate in sailing regattas and swim meets on our lake. All campers have the option of joining a team in most sports. Win, lose or draw, all we ask for is your PERSONAL BEST.
How can I be sure Birchmont is the right camp for my child?
When choosing a camp for your child, be sure you are doing exactly that! Just because your child has a friend going to "another" camp, is not reason enough to choose that camp. Be sure the camp that you and your child select has a program that is compatible with your child's interests. Additionally, look into the camp's "success rate." At Birchmont, 90%-95% of campers choose to return again! This is simply the best way to determine if a camp has fulfilled a camper's expectations and a parent's goals for their child.
Are you a uniform camp?
No. There is little emphasis on special clothing at Birchmont. We do require our official camp T-shirt for off-grounds camp trips and inter-camp athletic competitions.
How do our children get to Birchmont?
Since children come to Birchmont from many different states and countries, we provide round trip air-conditioned transportation from the New York Metropolitan Area (pick ups in Manhattan, Roslyn, NYC and Darien, CT) or from Boston's Logan Airport. Prior to camp, parents / campers are given their choice of options: bus trip, flight or parent drop off at camp. For those that choose to drop their campers at camp, you are also invited for a brief "tour" with a senior staff member.
Why is Lake Wentworth so special?
New Hampshire is known for its beautiful lakes. Our lake stands out! Lake Wentworth is rated "Class A" by the Department of Environmental Services. In plain English, the water is so clean you can drink it! Our lake has a natural white sandy bottom, which is a great relief for children wary of muddy or grassy pond-like waters. Wentworth is the sister lake to the larger "Class B" lake, Winnepesauke. Our Lake Wentworth is 6 miles in length and almost 2 miles wide. Protected by the Lake Wentworth Association, the lake has precious little boat traffic of any kind, and several of the islands within the lake are "forever wild" lands left undeveloped for more important matters such as nesting Loons, Blue Heron and American Bald Eagles. Birchmont has close to a mile of spectacular sandy beach bordering crystal clear waters warmed by the summer sun to an average temperature of 80 degrees!