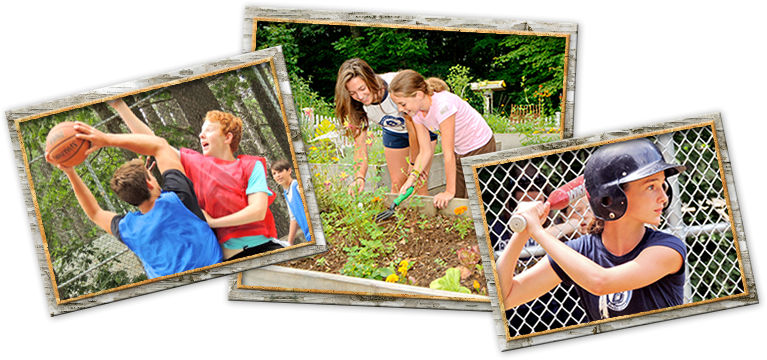 A "Typical" Day
7:45AM - 8:15am

Reveille & Line-Up

8:15AM - 9am

Breakfast

Period 1: 9 - 10am

Notches

(Arts & Crafts, Ceramics, Woodworking or Nature)
Period 2: 10 - 11am

Tennis

Period 3: 11 - 12noon

Instructional Swim

(or Top Fit for campers 13 & older)
12:15 - 1PM

Lunch

1 - 2pm

Rest Hour OR Free Play

Period 4: 2 - 3pm

Soccer OR Performing Arts

3 - 3:30pm

Afternoon Break & Snack

Period 5: 3:30 - 4:30pm

Free Swim

Period 6: 4:30 - 5:30pm

Ropes OR Basketball

5:30 - 6pm

Mail Call

6 - 7PM

Dinner

Evening Activity: 7 - 8pm

Clubs

(A choice of 20+ co-ed, counselor run hobby activities to include, fishing, kayaking gardening, waterskiing to name a few…)
Late Night: 8 - 9pm

Campfire & S'mores, Lodge, Hilltop
We have 50 unique camp days, no 2 are the same.
We have 12 groups, 6 girls groups and 6 boys groups. Our typical Monday through Saturday program day begins at reveille at 7:45 AM and concludes after evening activity at 8:00 PM. We also have many "Late Night" activities for our older campers as well. Schedules are produced weekly and based on camper input. This daily "sample" schedule below does not include Trip Days, Inter-Camp Competitions or the many camp wide Special Events that take place throughout the summer.
Sundays at Birchmont are called Option Sunday
We sleep late until 8:30 AM and these days are filled with outside entertainment and activities to include DJ Socials, a Traveling Zoo, Breakfast in Bed followed by our renowned Brunch, Checkers Tournament, Chess Tournament, Bagel Sunday and the ever popular Mid-Summer Event!
This is just a sample of a typical day. Visit our Activities section for more information on our activities.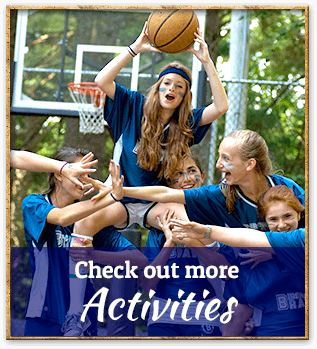 Beyond the "Typical Day"
Clubs which are comprised of approximately 20 activities are based on camper choice, co-ed and very popular. Clubs runs 4 nights per week with each group getting clubs 2 nights per week. This guarantees a low number of campers at each club. Clubs range from fishing, gardening, dodgeball to skiing, kayaking, cooking, fitness and more…
Every night after evening activity we select a handful of campers to assist one of our adult staff in delivering "Cookie Patrol" on one of our large touring golf carts. Evening snacks are delivered to each cabin much to the delight of the campers delivering the snacks to those receiving! Snacks are always individually packaged servings, low sugar content and range from selections such as Smart Pop Popcorn, Pretzels, Health Bars, etc.
For campers who show an interest and basic proficiency in golf we offer weekly golf trips to several local courses. Campers can enjoy between 9 and 18 holes on beautiful lakes region courses!
(Optional) Our highly trained Equestrian Director and her staff will introduce campers new to riding as well challenge the more experienced rider. Our program is housed in a state of the art stable area complete with individual paddocks, a horse washing station and two riding rings. We are also fortunate to have a couple of miles of trails to ride right on our own 300 acre campus!
We offer a wide range of Inter-Camp Competitions (ICCs) every summer. All of our campers can opt to participate in most every team sport at every age level. ICCs are completely voluntary.
Are never an issue at Birchmont! On grounds we have several indoor/covered activity areas that can continue rain or shine. The Lodge, Hill Top, Notches, RAG and The Arcade are perfect areas to play while we wait out a summer shower. Other large interior spaces provide areas for group games and current sports and DVDs. Additionally we have a fleet of family owned and operated D.O.T. school buses (www.PierceCoachLine.com) that can transport our campers to local movie theatres, arcades, roller skating rinks and bowling alleys! No day is a wash out at Birchmont!
Every group participates in a trip every week except for weeks 1 & 7. All trips are age appropriate and are extremely diversified. Our trips include everything from adventure activities (overnight camp outs, hiking & kayaking) to water and amusement parks, just for the fun of it! Our Senior Trips (Campers between the ages of 13 & 15) include multiday experiences which include White Water Rafting, Quebec, Montreal & Boston at an additional expense.